SeaWorld Orlando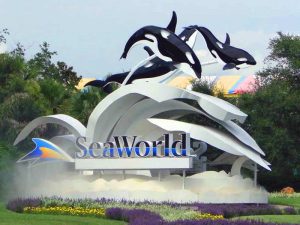 SeaWorld Orlando is theme park and marine zoological park located in Florida. It's operated by SeaWorld Entertainment and operates started in 1973. A chain of marine mammal parks, oceanariums, animal theme parks and rehabilitations. The parks feature killer whale, sea lion and dolphin shows. There are also zoological displays of various other marine animals. There are many locations operated by SeaWorld. Aside from Florida, SeaWorld also have in San Diego, California and San Antonio, Texas.Last 2007, SeaWorld Orlando announced additional attractions the Aquatica Water Park where its offers adventure park that perfect for the family. SeaWorld is not just a water park, it has also featured thrills rides like roller coasters. It was originally owned by Busch Entertainment Corp. which is known for brewing beer. It was sold to Blackstone Group who are now renamed to SeaWorld Entertainment.
In history, Seaworld opened by Milton C. Shedd, Ken Norris, David Demott, and George Millay in 1964. It originally set out to build an underwater restaurant and marine life show. They scrapped those plans and decided to build a park, so SeaWorld San Diego was opened on March 21, 1964. With a few dolphins, sea lions, 6 attractions with 22 acres and it is proved to success when they started open and operated. Because of the successful on the opening of SeaWorld, it was decided that Aurora, Ohio is the new home of SeaWorld. But it was last only from mid-May until mid-September for the reason of the harsh winter climate on the place. It was then sold to Six Flags, Inc.
SeaWorld Orlando is started to open in Florida after the successful opening of Walt Disney World Resort. During that time, Orlando is already popular with tourists. The main attractions of SeaWorld are their killer whales, currently, they have 22 killer whales on their three parks.
Last year 2016, SeaWorld announced that they would end in-park Orca breeding program and phase out their theatrical killer whale shows altogether starting in San Diego. They build their first park without killer whales was at Abu Dhabi, UAE.
Contact Us

for

SeaWorld Tickets

. Ticket Validator sell tickets with a best price to deal.
Address: 111 Monument Ave Kissimmee Fl 34741 Orlando, Florida