Universal Orlando Resort's Halloween Horror Nights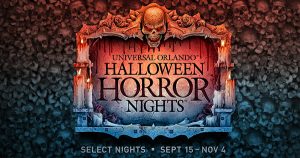 Halloween is a celebration practice in a number of countries all over the world.  It is dedicated to remember the dead people. Halloween originated from Celtic Harvest Festival that have pagan roots particularly the Gaelic festival Samhain. Means the end of the harvest season and the beginning of winter or the darker half of the year based on the ethnolinguistic group native to northwestern Europe.On the past, few years Halloween season is serve as mourning season of every people. A time to visit and held a dedication to their fallen love ones. But the days goes by, People change the perception of celebrating the Halloween. Time to time it changes on how it will be celebrated by the new generations. And it will be practice to the next generation.
The Recent Generations, had practice in celebrating the Halloween to have different activities. Includes the Trick or treat, attending Halloween parties with a Halloween Costume, carving pumpkins into Jack-o-lanterns, lighting bonfires and many more. We can deny that Halloween season will not be celebrated into sorrow, otherwise, attending different events may lead to excitement of every individual. Some people spend their Halloween season in watching horror films or telling scary stories. They decorated their house into a Halloween theme and let little kids to visit their houses to get some Trick or treat.
Also, lot of business establishments nowadays held Halloween events as their special treats to the customers, they turn their establishments, store, hotels, resort and many more to have a Halloween theme ambiance and a special offer to their customer during a period of time. One of the famous business holding a Halloween Events is the Universal Orlando Resort.
Universal Orlando Resort tend to considered as one of the world's largest and most elaborate Halloween celebrations. They enlist a "scream team" of designers to research the human psyche and its deepest fears to create haunted houses and "scare zones" of terrifying magnitudes for guests. The Events will start on September 15 up to November 4, 2017. Universal Orlando Resort's Halloween Horror Nights will be the having the most terrifying and scariest held every year. The event said to be not recommended for the children under 13 years of age because it may too intense for them.
Call Us

for Universal Orlando Resort's Halloween Horror Nights
Address: 111 Monument Ave Kissimmee Fl 34741 Orlando, Florida