Orlando Pride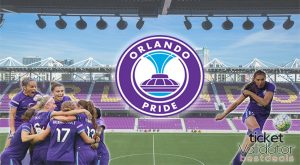 Orlando Pride is a professional women's soccer team based in Orlando Florida. They joined the National Women's Soccer League (NWSL) for the 2016 season. Affiliated with men's team Orlando City SC who joined also in Major League Soccer (MLS). They play their home games at Orlando City Stadium.
Orlando Pride starts on rumor according to the Group of Ownership of Orlando City SC. The expansion of the team to the NWSL. In the press conference of Phil Rawlins, one of the owner, on October 20, 2015, at the Lake Eola Park. He revealed the name, logo, and color of the said team.  Also, the head coach Tom Sermanni who will lead the team. Phil Rawlins noted in a press conference about the Name of the team. It is derived from the quoted said of Phil Rawlins "captures how we all feel about the City of Orlando, as well as firmly tying into the Lions family". The color of the logo and its features illustrates the famous fountain at Lake Eola Park. The Pride announces their first player team in history. Alex Morgan, Kaylyn Kyle, and Sarah Hagen.
Tom Sermanni still lead the team since he is chosen to be the head coach of the Orlando Pride. Together with Khano Smith as the assistant coach and Lloyd Yaxley Goalkeeping coach. Pride previously played in Camping World Stadium in their home match from 2016 season. Recently, they played in Orlando City Stadium which opened for the 2017 NSWL season. Orlando Pride holds the record for the largest attendance in NWSL history. The victory of 3-1 over the Houston Dash on April 23, 2016, with the 23, 403 witness the Pride's opening home game.
Recently, they win against the Washington Spirit last Tuesday, August 08, 2017. Ends with the score 3-0 at the Orlando City Stadium. And this coming Saturday, August 12, 2017, will have the fight against Sky Blue FC at Orlando City Stadium.
Other Sports Events: Live Events or Call Us for a better deal.
Address: 111 Monument Ave Kissimmee Fl 34741 Orlando, Florida